We are upgrading our videos! Until that time, our current Joomla Video Tutorials are available for free, zip, nada!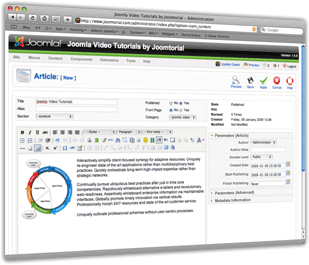 Thank you for visiting Joomtorial.com. At Joomtorial.com you will find Joomla Video Tutorials for beginners, intermediate and professional Joomla users.
Joomla is a highly usable content management system and can be used for personal use as well as for business use. Websites made with Joomla can be found in many sizes varying from a few pages up to entire community websites with 10.000+ pages. When starting with Joomla the versatility of Joomla can become quite overwhelming. It's more or less like a Dutch saying; "You can't see the forest because of all the trees in front of it."
Our purpose is to offer useful and most of all, understandable Joomla Video Tutorials that will help you in creating your Joomla website.
Visit our Shop to purchase our tutorials
.
In our 10+ years of experience in web-development and 5+ years of experience in Joomla, we decided to share our knowledge-base. You will find usefull Joomla information in our
Forum
and you can purchase Joomla Video tutorials in our
Shop
.